Oookay, I made this fanmix cause 1) I'm sick (got fever and have to stay in bed tomorrow) and 2) I was bored (because of 1)). Had nothing else to do except trying to tell my mom that I'm ok despite being my own heater *headdesk* but enough sulking:
Second fanmix (for
nessaja82
cause you know why *snuggles carefully*) and usual rules apply: Please
Right-Click and then Save Target As
Thanks *hugs*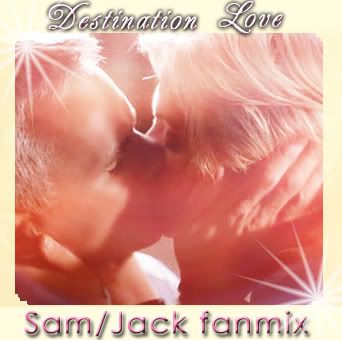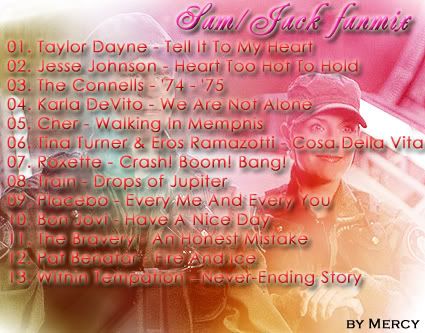 01.
Taylor Dayne - Tell It To My Heart
Love, love on the run, breaking us down, // Though we keep holding one // I don't want to lose, no I can't let you go
Sam wants Jack to tell her finally the truth
02.
Jesse Johnson - Heart Too Hot To Hold
When you walked inot the room // I could see your wonderful // Is that smile I find for me
The very first scene of our pair in 'Children of Gods'
03.
The Connells - '74 - '75
When I look on in your eyes then I find that I'll do fine // When I look on in your eyes then I'll do better
The looks they share when they are in critical situations give them hope again
04.
Karla DeVito - We Are Not Alone
Just imagine my surprise // When I looked into your eyes // I knew right then I'd never let you go
The scene in 'Line of Duty' when Jack visits Sam in the cell
05.
Cher - Walking In Memphis
But there's a pretty little thing // Waiting for the King Down in the Jungle Room
I know it wasn't really the time but for me it could be a '1969' song
06.
Tina Turner & Eros Ramazotti - Cose Della Vita
Yes, you know it's true // I just can't stop thinking of you
Despite how hard they try, they can't forget eachother
07.
Roxette - Crash! Boom! Bang!
Cos everytime I seem to fall in love // Crash! Boom! Bang! // I find the heart but then I hit the wall // Crash! Boom! Bang!
They fell hard, very hard for eachother
08.
Train - Drops of Jupiter
Tell me did you sail across the sun // Did you make it to the Milky Way to see the lights all faded
Jack's thoughts when Sam comes back saving another race again
09.
Placebo - Every Me And Every You
Carve your name into my arm // Instead of stressed I lie here charmed // Cause theres nothing else to do // Every me and every you
Their love isn't always flowers and chocolate but it's all about them
10.
Bon Jovi - Have A Nice Day
Ohhh, if there's one thing I hang on to // It gets me through the night // I ain't gonna do what I don't want to // I'm gonna live my life
Jack hangs onto Sam
11.
The Bravery - An Honst Mistake
I swear I never meant for this // I never meant // Don't look at me that way // It was an honest mistake
Jack gets all defensive as Sam asks him about all the woman he had *grins*
12.
Pat Benatar - Fire And Ice
Cause it's just an illusion in this passion play // I've seen you burn `em before
Exactly what the title says
13.
Within Tempation - Never-Ending Story
We're part of a story // Part of a tale // We're all on this journey // No one's to stay // Where is it going // What is the way
A 'Moebius' song. Everything repeats itself...
Comments are very much appreciated ^-^
All fanmixes can be found at my
website
as in feverish

Cose Della Vita