fleur_de_mort
and
koryou
were asking for the recipe of teh cookies that I eat like other people bread. *grins*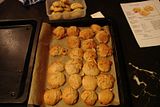 I translated it but I'm not sure if I got everything right. Please, tell me if you find a mistake! *hugs*
Apple Cookies Recipe
| | |
| --- | --- |
| 60 g / 2 oz | sugar |
| 2 | eggs |
| 100 g / 3.5 oz | margarine, unsalted |
| 250 g / 8.8 oz | plain flour |
| 1 pk / 1/4 oz | baking powder |
| 2 | apples |
| 20 g / 0.7 oz | powdered sugar |
Mix the sugar with the eggs and margarine.
Mix the flour with the baking powder and add it.
Peel the apples, remove the apple core, cut it into little pieces and add it to the mix.
Using a teaspoon, place small heaps of the mixture on a paper lined baking tray.
Bake in a pre-heat oven at 200 C / 392 F for approx. 10 minutes on the middle rung.
Let cool on baking sheet and sprinkle powdered suger over the hot cookies.
[Serves 20 - 108 cal per serving | Prep-time: 10 min. - Total-time: 20 min.]
Enjoy the yumminess :D
nervous

The Closer - Season 3