Yesterday Michelle and I were alone at home (and yes, the house is still standing. Just a little bit burned around the edges... *grins*) cause Mona was staying with a firend. We marched into town around 4pm and bought more stuff for Easter. In the middle of it Michelle had the brilliant idea to make cookies. Applecookies *squeezy*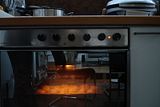 These are the apple cookies...




And these were mixed with strawberry jam...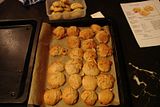 And since it tasted really delicious...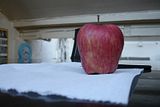 While munching our yummy cookies, we watched the anime Yamato Nadesico Shichihenge (which Michelle hadn't even known existed... and to think it's her favourite manga). The problem was that her chair isn't exactly a movie theatre and so we moved the couch in front of her desk. Very unconventional but oh so comfy *nods*

I think we fell asleep around midnight and this morning our folks were begging us to make more cookies ^-^ We will make more tomorrow after we bought more ingredients. Gotta love cookies ♥